About Us
Emerald Bay, located on the undeveloped West End of Catalina Island, enjoys unparalleled access to the natural gems of Catalina's singular ecosystem. The secluded beaches and coves that surround us boast world-renowned snorkeling and diving, frequently counted among the top ten destinations in the world. For the terrestrial naturalists, the hiking trails that radiate from our camp provide the perfect opportunity to spot the endemic Catalina Island Fox or the famously anachronistic Bison. This well-preserved environment, under the care of the Catalina Island Conservancy, provides a uniquely accurate window into the natural history of California.
The recorded history of Emerald Bay dates back to the 18th century when Chumash Indians, Spaniards, and the odd pirate occupied the land. In the mid-19th century the Johnson Brothers used Emerald Bay to graze cattle and ship them to the mainland. The occasional corral fencing from Johnson's Landing (as it was known at the time) can still be found in our campsites to this day. It wasn't until 1925 that the Crescent Bay Area Council founded the Boy Scout of America facility that we know today. For fifteen years the camp served hundreds of local scouts and scouters until, in 1940, the Navy requisitioned the camp for  underwater demolition training. Some of our oldest staff cabins are the remnants of the officer and trainee housing from this era. In 1946 Camp Emerald Bay re-opened with roughly 80-100 campers and 15 staffers- a mere fraction of the numbers we serve today.
The camp has continued to grow and now serves over 4500 scouts in a summer with a staff of roughly 150 young men and women dedicated to produce a unique and unparalleled scouting experience. Additionally, the Spring and Fall Seasons have become an increasingly popular time for school, church, business, and organization retreats and events. Emerald Bay is more than a resort or weekend away. We work, through Environmental Education, Marine Science Initiatives, and Ethics and Leadership Training, to build good people.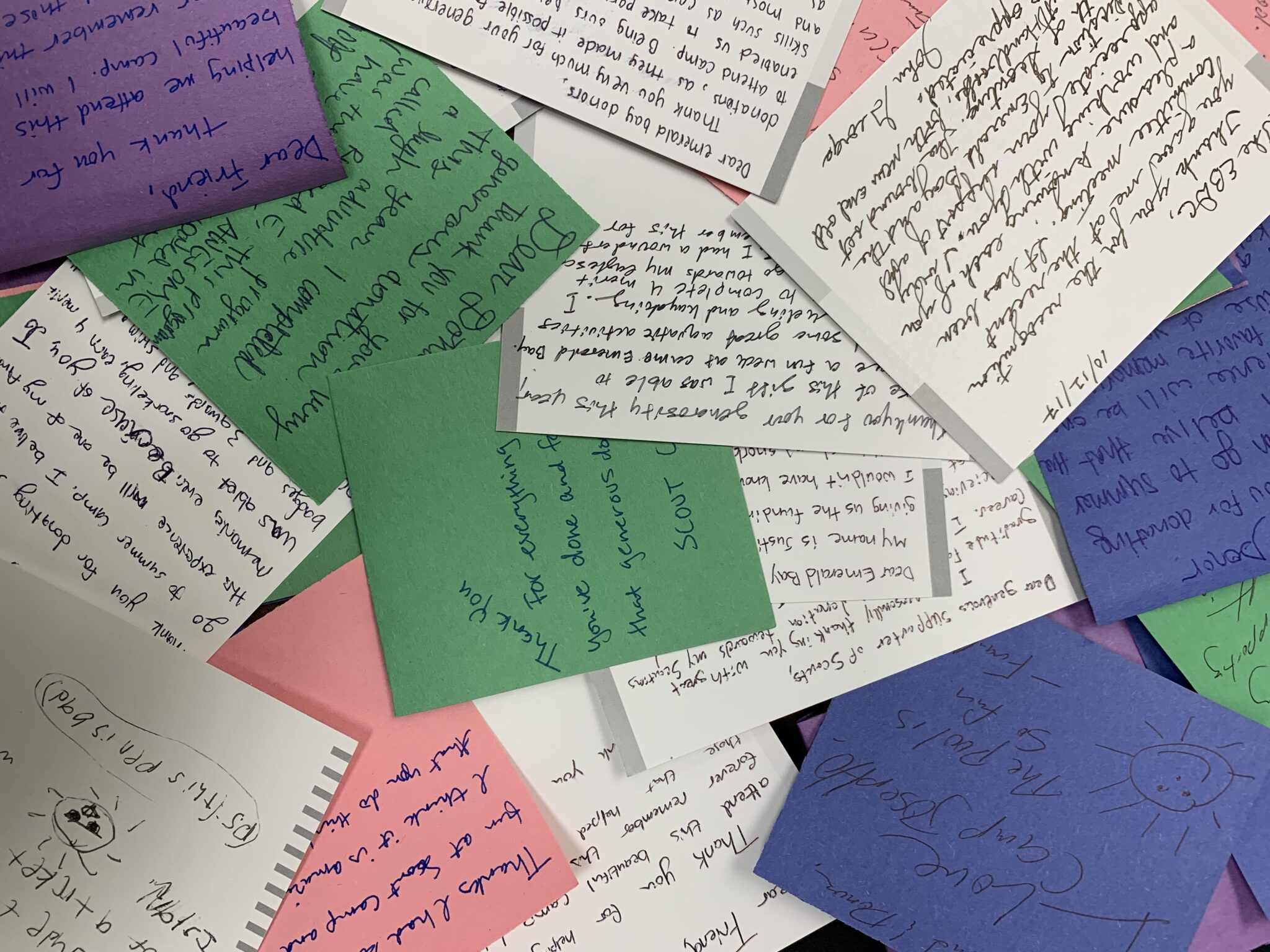 Labor Day Weekend at Camp Emerald Bay was an amazing experience, we are so glad that we had this opportunity!
We were well taken care of by the Emerald Bay Staff, both on and off the island, with a full weekend menu of meals, snacks and drinks designed and prepared exactly the way we wanted.
Staying in the beach houses, with a deck overlooking the dock and bay was beautiful and unbelievably comfortable for us – especially compared to the camp tents where we have always stayed in the past! And for two families of four, Emerald Bay was the perfect place to spend time together with so many fun things to do.
We tried archery and scored a few bullseyes, checked out the Marine Science Center and the touch tank, rode mountain bikes on the trails to Two Harbors and Parson's, and spent a good amount of time in the water.
We had a guided snorkeling excursion where we saw a variety of marine life, kayaked down to Inspiration Point, went paddle boarding, and swimming.
At night, we were treated to a campfire complete with s'mores, and even a movie night on the beach, which was awesome.
The Emerald Bay team really went all out to make us feel welcome, taking care of everything and creating a super memorable experience for us. We hope to have the chance to do it again in the Spring!" – Brian
Thank you for your amazing support towards my summer camp. This experience has allowed me to learn many new things, as a person and as a Scout. Camp Emerald Bay helped me realize improvements that needed to be made to my leadership. With this, I could properly support my fellow Scouts in the future. For that, I appreciate and thank you for the opportunity to attend camp.
Dear Camp Emerald Bay,
Thank you for such an amazing week at summer camp. This has been my favorite one so far. The counselors were awesome, the food was consistently delicious. I can't wait to tell my friends at home my memories here.
I had an absolute blast at camp! This was the last campout I could spend with my best friend and it was the best I've been on. I learned a lot about the ocean and leatherworking. We got to canoe across the island and campout on a new beach. Thank you again
Thank you very much for allowing us Scouts to receive an experience that has taught me and my fellow Scouts many essential skills such as canoeing, archery, rowing, kayaking, and many more unforgettable experiences. Your gift will be unforgettable and your gracious support has created a week of fun which will survive a lifetime for me and my fellow Scouts.
The experience here at Emerald Bay has been unforgettable because the staff helped me become a better swimmer and I was able to make use of the wonderful facilities on the island. Thanks to the aquarium, I was able to experience sea life and learn about the environment, which was something I wanted to do before going to college. The compost here is great, but it doesn't compare to the friendliness and quality of the staff. I would love to grow and get better as a Scout, but also allow future Scouts to experience the same that I did. I came into this camp feeling sick, but it became a blessing in disguise because of how adventurous and enjoyable this camp was. This camp has had a huge impact in Scouting and in my future.