Traditional Summer Camp
Traditional Merit Badge Program
The bread and butter of the summer camp experience is the Traditional Merit Badge Program. Camp Emerald Bay takes full advantage of its unique location on the west end of beautiful Catalina Island. Scouts have the opportunity to learn and earn a variety of Merit Badges from Cycling to SCUBA to Pottery. With 6 dedicated Merit Badge areas and over 30 badges offered there's something for everyone. Registration for Merit Badge classes will open in March.
To find out more about the Merit Badge offerings at Emerald Bay click here.
Senior Patrol Leader Program
Experience has shown that troops with the most qualified and capable SPL's have the best experiences at Emerald Bay. To ensure that your unit makes the most of your experience here, we invite you to send your Senior Patrol Leader (SPL) and one buddy to camp three days early to participate in the Emerald Bay SPL Training. This program will help your SPL to effectively lead your unit through camp, and to develop skills that improve the functioning of the troop the rest of the year.
To find out more about Senior Patrol Leader program click here.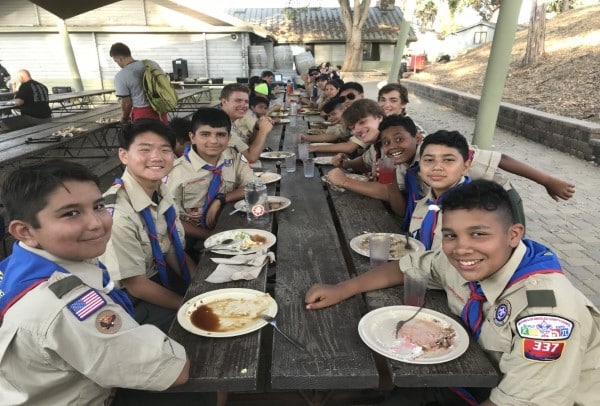 Lifeguard Certification
Since 2019 Camp Emerald Bay has been an American Red Cross Lifeguard and CPR training facility. With two lifeguards working together to lead this program, you can feel confident that your Scouts, aged 15 and older, will leave Emerald Bay with the skills to not only safely guard your troops aquatic program, but apply for lifeguarding jobs in your area. Adults can also take the program. Registration for this program will open in March.
To find out more about the Lifeguard certification program click here.
Sailing Certification
Camp emerald Bay is an official American Sailing Association affiliate school. A staff of professional sailors teach the Advanced Sailing Courses where students earn their ASA 110 certifications: Basic Small Boat Sailing. The mission of ASA is "to teach people to sail safely and confidently" and has "over 300 affiliated sailing schools throughout the U.S., Europe, Japan, Central America, Taiwan, China, and other far eastern countries". Sailors who earn their ASA certifications are able to travel around the world and sail confidently with other yacht clubs and sailing schools, utilizing the skills learned at Camp Emerald Bay. Registration for this program will open in March.
To find out more about the ASA sailing certification program click here.